Today is my birthday and as a treat I got my hair done and bought this new NouNou conditioner by Davines.  The company is out of Italy, so like Ikea they wanted to use a pictorial instructor for their how to open sticker.  But for the life of me, I couldn't get the box open!  This is their sticker: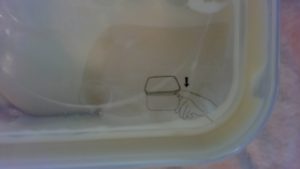 I think it's a thumb and a down arrow, so push down at the corner, possibly under the top-most lid?  OK, I can handle that.  But as you can see in the video, the box was collapsing before anything was budging.  I went to Google and YouTibe and the Davines website to search for any further instruction on how to open the box.  I thought if I could find an image of what it looked like open; what I was pressing on to maybe "pop" in order to open the lid up, I would have better luck.  But my searches all came back empty.  Drat.
Well, if I was going to have to get out tools, I might as well get out a camera.